Locker room renovations require some big purchasing decisions for athletic facilities. While the upfront cost of custom lockers may seem significant, low initial prices don't always mean long-term value.
Evaluating total cost of ownership (TCO) helps facility managers understand the financial implications and benefits of investing in high-quality custom lockers. TCO goes beyond the initial cost of buying lockers and includes all the expenses associated with owning and operating them over their lifespan. By understanding TCO, athletic facilities managers can make informed choices that maximize value and minimize long-term costs.
The initial investment and the quality of materials used in constructing custom lockers are important factors in TCO.
Maintenance and durability significantly impact TCO. Opting for lockers made from durable materials may have a higher upfront cost but can reduce maintenance and replacement expenses in the future. High-quality lockers require fewer repairs and replacements, reducing costs.
Prior to the East Stroudsburg University (ESU) football program's locker room renovation, the team faced several challenges with their outdated locker room. The cramped space was inadequate for the 90-player roster and lacked privacy. The old lockers were worn, rusted, and some were broken beyond repair.
To address these issues, ESU launched the You WIN In The Locker Room First campaign to raise funds for the renovation. With the campaign exceeding its goal, ESU partnered with Legends Custom Lockers to transform the space. We provided spacious lockers that offered ample storage, comfortable seating, and modern amenities. Custom-built with top-notch materials, the new lockers require minimal upkeep and offer long-term reliability.
Customization and adaptability are also key factors affecting TCO.
Custom lockers can be tailored to the facility's specific needs, allowing the most efficient use of space and accommodating different equipment. Investing in adaptable lockers can save costs associated with retrofitting or purchasing new ones as needs change. We provided ESU customized locker solutions to meet the unique demands of their athletic facilities, and the new locker room exemplifies the benefits of investing in quality lockers.
The open concept locker layout promotes student-athlete interaction, provides sufficient space for coaches and staff, and ensures player comfort. Additional features, such as a cell phone charging station, equipment drying system on top of each locker, and a speaker system, enhance the functionality and convenience of the space. The locker room also incorporates plaques and photo murals honoring former players who contributed to the project, paying tribute to the program's rich athletic history.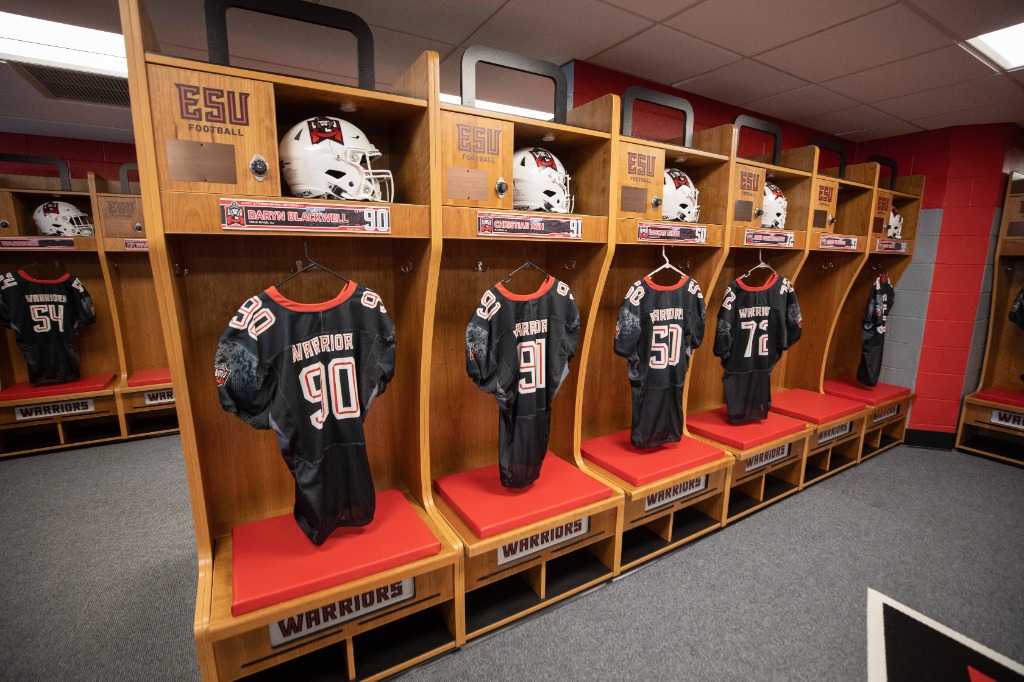 Safety and security features are crucial for locker TCO.
Injuries, thefts, or damage to personal belongings can result in financial losses for athletic facilities. Legends Custom Lockers prioritizes security, incorporating robust locking mechanisms and advanced safety features into our designs. Choosing secure lockers avoids potential liabilities and costs associated with theft or vandalism.
The results of the ESU renovation have been remarkable. The new locker room not only addresses previous challenges but also creates a safer and more comfortable environment for the players. The modern amenities and design, combined with visual reminders of the school's football achievements, contribute to a sense of pride and professionalism that's good for morale and cultivates a sense of ownership.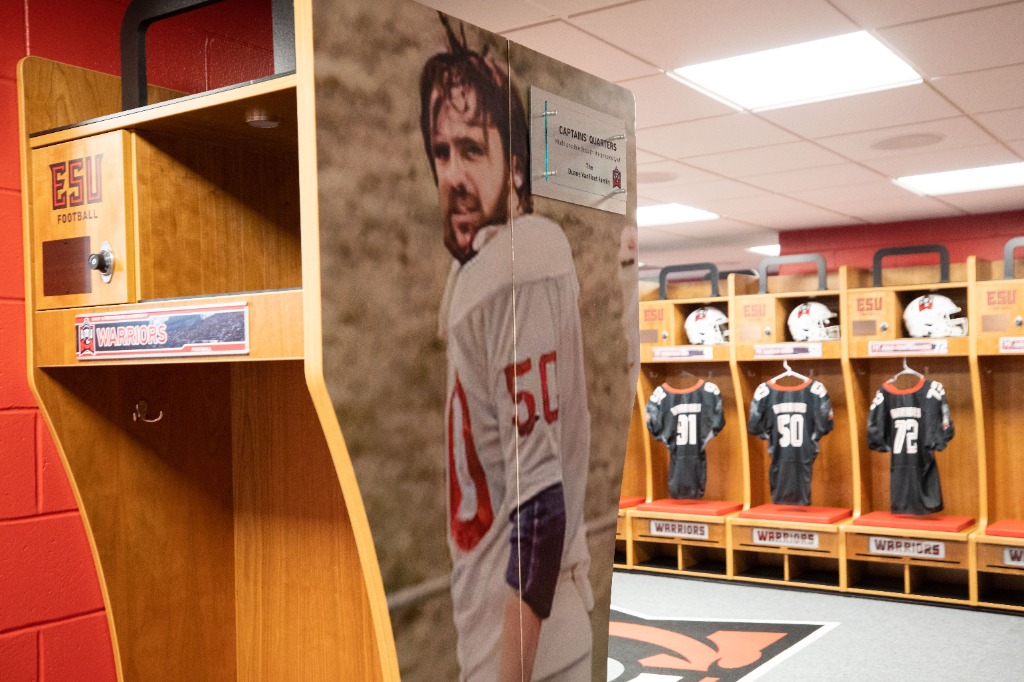 Customer support and warranty coverage are vital aspects affecting TCO.
Reliable customer support minimizes time on the bench, and warranty coverage provides peace of mind and protects against unexpected expenses. Legends Custom Lockers offers excellent customer service and comprehensive warranty coverage. We stay in touch with our customers because we're a part of your team. That's how we know ESU expects their locker upgrades to positively impact recruitment, retention, and the program's ability to build championship-winning football teams for decades to come.
The customization, durability, security features, and exceptional customer support offered by Legends Custom Lockers make our locker room renovations a worthwhile long-term investment. By considering the TCO, athletic facilities managers can make informed choices that enhance the functionality and overall value of their locker rooms. Make the smart investment in custom lockers and experience the positive impact on recruitment, retention, and the success of your athletic program. Contact Legends Custom Lockers today to explore the possibilities and unlock the true value of custom lockers for your facility.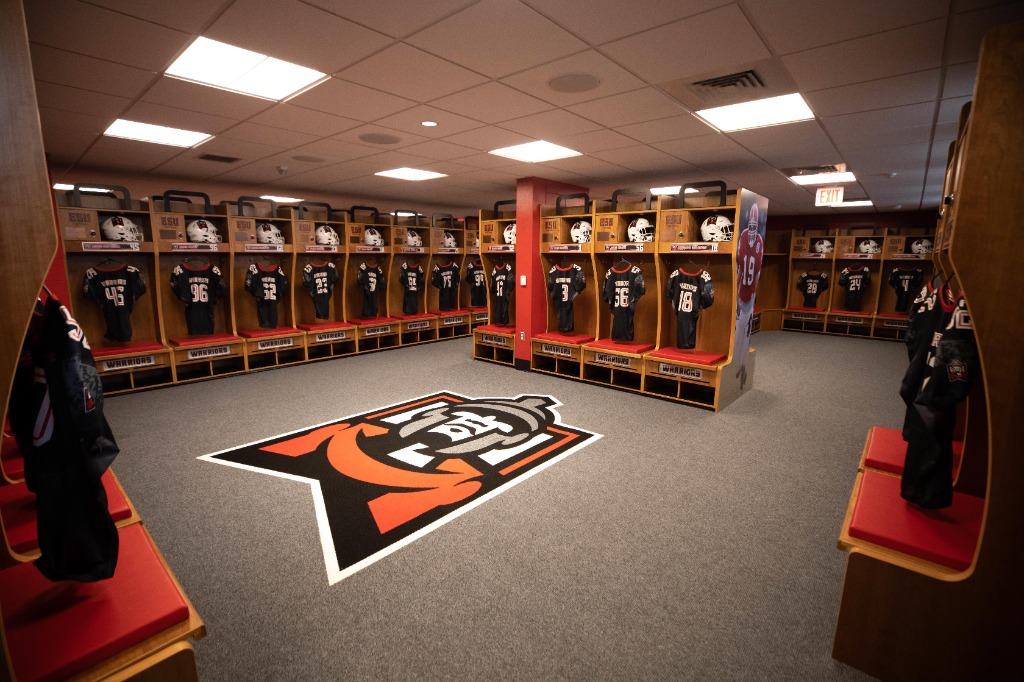 Invest in custom lockers for long-term benefits.